IT inventory
Control the real use of IT resources in your organization Quickly and efficiently inventory hardware and bring your enterprise's servers and virtual machines under control.
What is an IT inventory?
The IT inventory process is a formal obligation of every organization and consists of compiling an inventory of all available IT equipment in the company. It is usually conducted on the last day of each fiscal year. However, this is not a rigid deadline. The purpose of the inventory is to check the actual condition of the equipment in the company and to account for the people who are assigned to the computer equipment and are responsible for its operation. The process also involves properly labeling each piece of equipment in the organization and entering it into a database.
Why take an inventory of your IT infrastructure?
Inventorying computer equipment and monitoring it doesn't cause that many problems if your IT infrastructure is small. However, over time, as your company grows, you start hiring more people to join your team and expand your infrastructure. In this situation, manually inventorying computers without any IT system can prove to be quite a struggle. Therefore, if you care about efficient hardware inventory and meeting your legal obligation, you should consider implementing an IT system that reads, among other things, the exact hardware configuration and detects new devices in the infrastructure.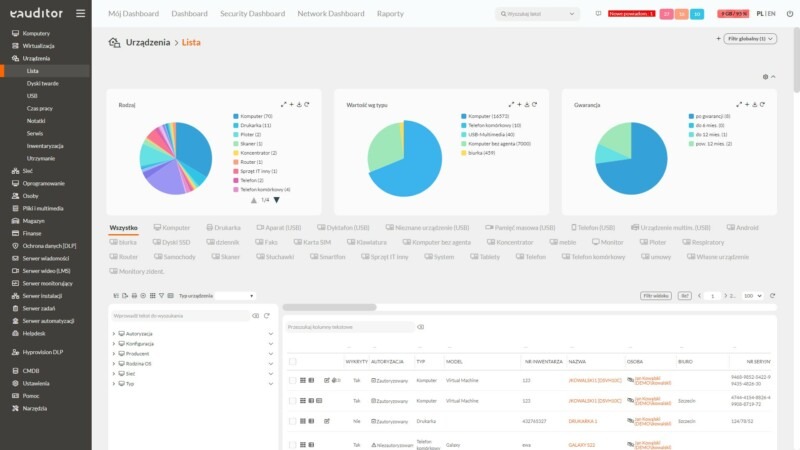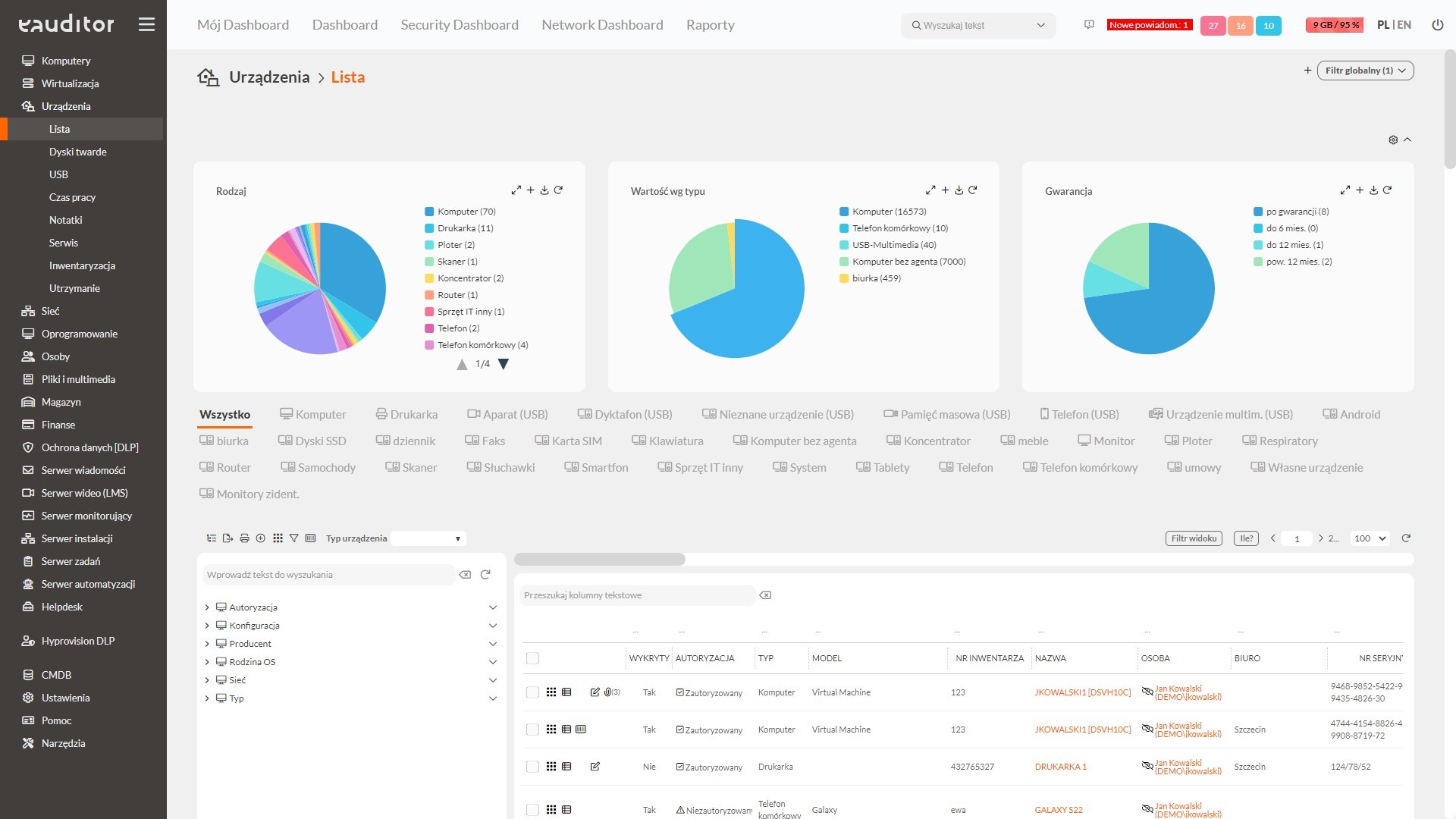 Inventory in the eAuditor system
In order to carry out an inventory, it is necessary to properly prepare the infrastructure so that the equipment records can be read. Determination of owned IT resources in the organization can be the result:
Manual scanning of inventory codes
This involves generating barcodes, which will then be used as identification marks affixed to individual devices. The eAuditor system reads as many as 17 types of codes (including QR codes), the scanning of which allows the organization to list the devices. The codes created in the eAuditor system can be printed on any printer. The scanning itself is done using the phone's camera or a dedicated application (e-Inventory).
With the ability to manually add device types to the system, organizations in virtually any industry (e.g. manufacturing, technology, medical) can maintain an inventory of computer equipment.
Automatic scanning of devices connected to the network
This uses a built-in network scanner that, among other things, reads available devices on the network using SNMP. The administrator himself can determine the frequency of scanning to be in accordance with internal requirements. It is recommended to perform the scan before the inventory process itself, as the system will display the most up-to-date data.
Benefits of using an IT inventory system
Fast report generation
With the eAuditor system you will save time, because you will automatically generate any number of documents from a pool of more than 200 predefined reports concerning, among other things, inventory, for most views in the system. In addition, the built-in wizard will allow you to prepare your own document templates and export information from the table to the following formats: xslx, xls, Open Office Calc, CSV, HTML, MHT, XML, JPG, PNG, GIF, BMP.
Save time, thanks to automatic reports
From now on, you no longer need to waste time on schematic and manual repetitive tasks, because our system will do it for you! The built-in scheduler will allow you to automatically send reports by e-mail with static and dynamic parameters and save them in any location. In addition, the base of predefined types is large and editable, so you have full freedom and ability to change it.
Mobility
You have access to all the information in the system from anywhere because eAuditor is fully web-based. You will use it on any device from the browser level. In addition, you will take inventory via an Android smartphone, thanks to a dedicated app, or using the e-Inventory component (Windows Mobile) by installing the software on a PDA collector. In addition, eAuditor is compatible with the following operating systems: Windows, MacOs and Linux.
Full control over equipment in your organization
With a few clicks you will read and generate handover, return, return-transfer protocols from within WorkTime Manager. In addition, you will quickly check what computer equipment is assigned to a particular user in your organization and create sets of devices. This will allow you to use your IT environment efficiently.
Simple recording of computer equipment
You have at your disposal as many as 17 types of codes with which you will register the devices in your company. In the eAuditor system, you will also automatically create stickers that contain key data about the devices in your company with the possibility of printing them on any printer. In addition, automatically generated QR codes, will redirect you directly to the device detail card, after scanning it with a regular phone camera.
Oversee costs in your organization
You have full control over the equipment in your company, so you oversee financial issues. You can create statements of costs related to purchases, repairs or define notifications of upcoming service expiration.
Inventorying many types of equipment
You will quickly and easily inventory not only computers, but also other equipment in your company. In the eAuditor system you will inventory many types of equipment, such as: computers, printers, monitors, USB devices, cameras, multimedia devices, etc. In addition, it is possible to manually add your own types of equipment that are specific to your industry, such as production machinery or respirators.
Savings
Full information about all IT assets enables you to make better purchasing and operating decisions. When you know what you have and what is missing, you can optimally plan your purchases without incurring unnecessary expenses.
Responsibility for equipment
IT asset inventory will also help you increase employees' responsibility for the equipment entrusted to them. By periodically verifying your IT assets, you will significantly reduce their disappearance or overuse.
Control over assets
Knowing the state of your IT infrastructure will enable you to get the most out of it. You can redeploy equipment based on information about how the computers, printers, scanners and other devices are currently being used.
Elements included in the IT inventory
The system enables automatic inventory, eAgent service installed and running on devices. IT inventory includes: