IT security
Protecting key resources in an organization from accidental or intentional leaks is the cornerstone of security. By ensuring adequate IT security, it is possible to react even faster and detect impending threats.
BitLocker remote encryption
What is BitLocker encryption?
It's a tool that's built into Microsoft's operating system. It allows you to secure data by encrypting both external (USB) and internal drives. The BitLocker function is based on an encryption algorithm that secures access to sensitive data on mobile devices and internal drives. The BitLocker function can be used on all computers running Windows versions higher than home. BitLocker protects against unauthorized access to encrypted data located on mobile devices and computers in the organization.
The encryption process using BitLocker is based on 6 short steps:
Select a computer or several computers with Windows installed that support

BitLocker

or an external drive detected by the system.
Select the encryption method.
Select the type of file security.
Start disk encryption (its time depends on the size of the disk).
Download the key to the drive (recovery key).
Verify that the process has been executed correctly.

Remote and bulk disk encryption

IT administrators gain the ability to easily manage the partition encryption process. In the console, the administrator has available a list of devices, information about TPM version and encryption status. By selecting the appropriate option, any partition can be encrypted and decrypted remotely. The operation can be performed on one or multiple computers simultaneously.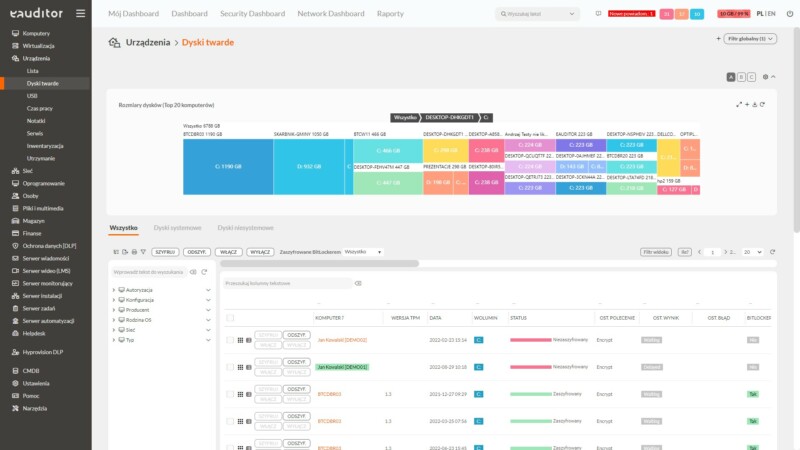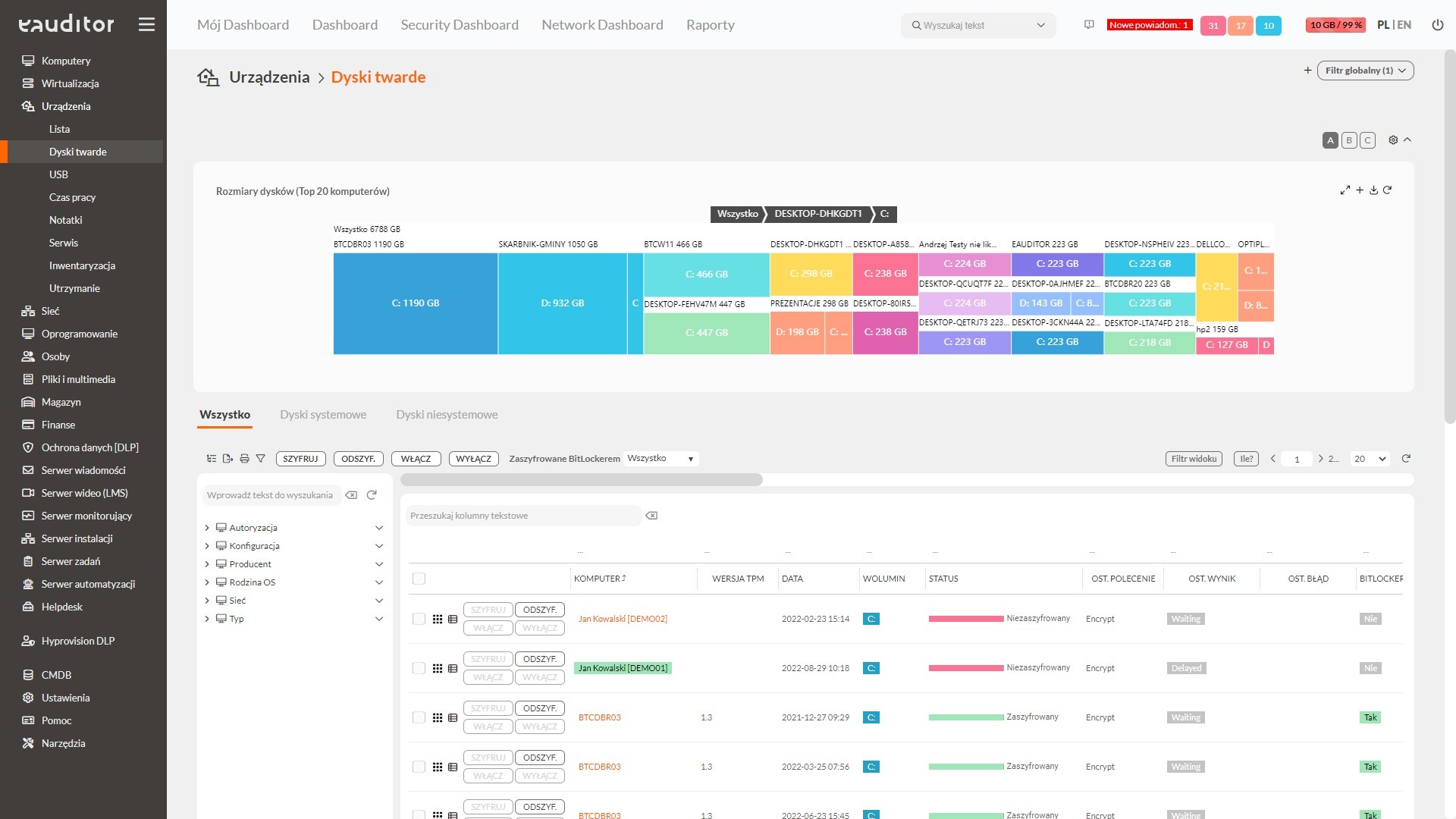 Remote encryption of internal drives
The eAuditor system, thanks to its integration with BitLocker®, allows you to securely encrypt internal drives. To connect, eAgent uses integrations with the BitLocker® API, making the entire encryption operation fully secure. The eAuditor identifies all storage and verifies that the internal drive has been encrypted with BitLocker®. Importantly, using the eAuditor system, you can perform remote encryption and decryption of one or multiple drives.
In addition, the system identifies all storage, both physical and logical drives. This gives IT administrators the ability to perform mass and remote disk encryption and decryption. They can easily manage the entire partition encryption process. In the console, IT administrators also have access to a list of computers, TPM version information, as well as encryption status information.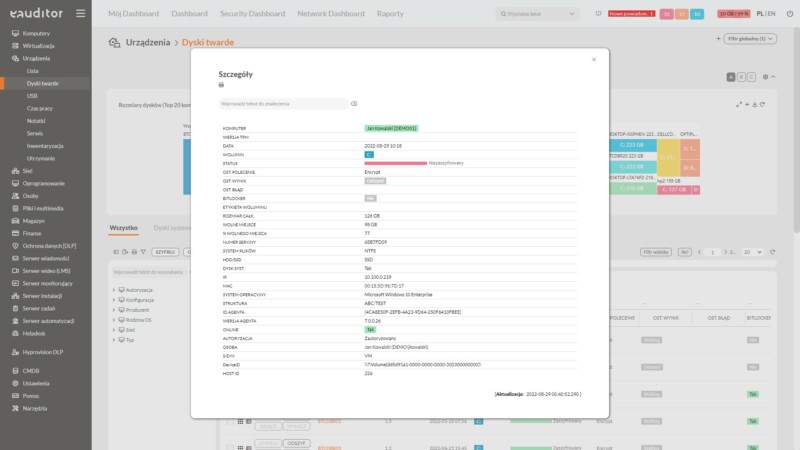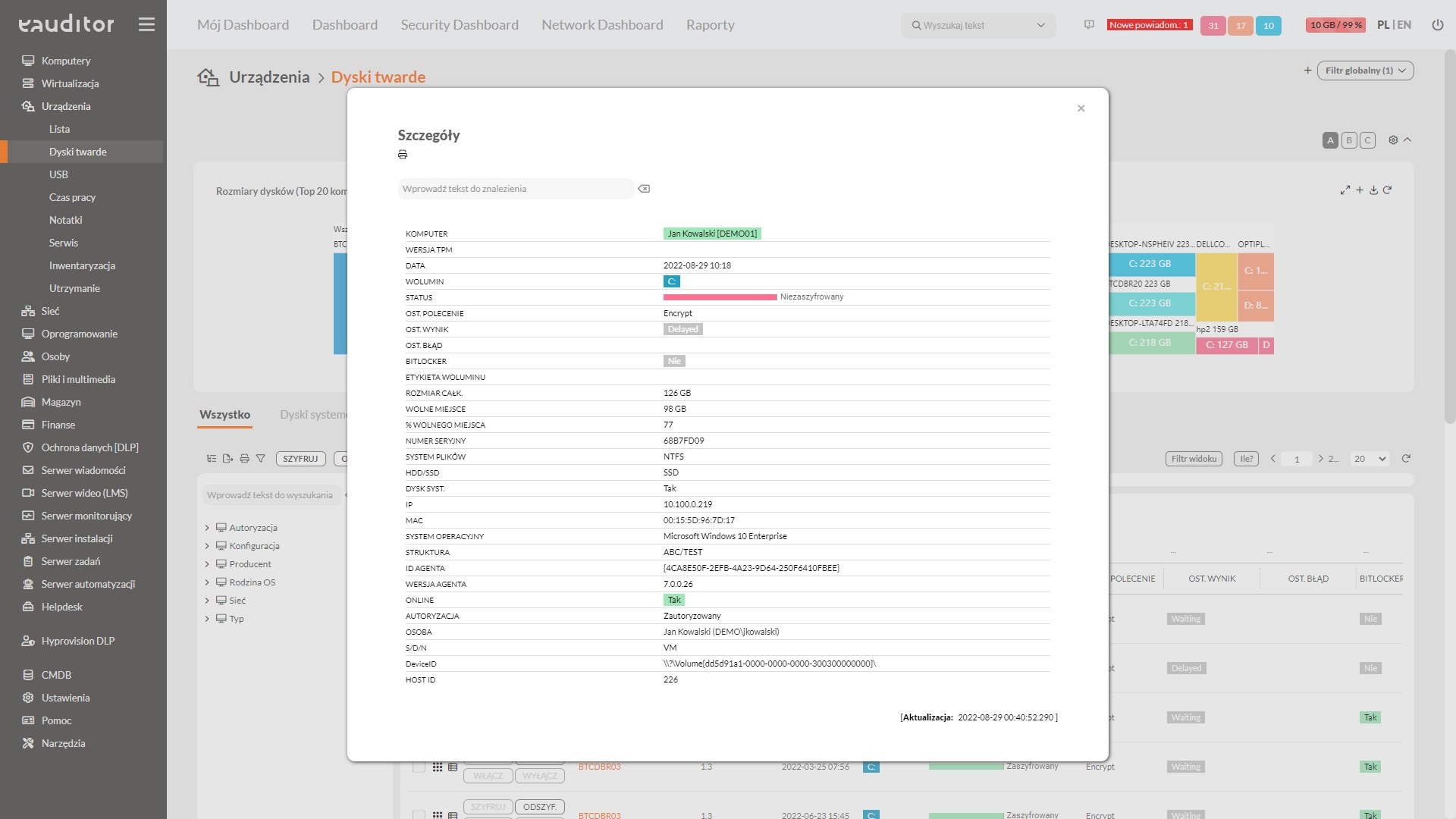 USB drive encryption
BitLocker® in eAuditor allows you to encrypt not only internal drives, but also external drives such as flash drives and flash memory cards. Many companies have sensitive data on flash drives, which are easily lost or stolen. ith USB drive encryption, IT administrators can identify encrypted external drives, and mass encrypt/decrypt them. USB drive encryption also uses integrations with the BitLocker® API, making the entire encryption operation fully secure.
Technical requirements
eAuditor / Hyprovision DLP
TPM (Trusted Platform Module) – version 1.2 or higher required
Windows 10 support for the TPM module:
| TPM version | Windows 10 | Windows Server 2016 | Windows Server 2019 |
| --- | --- | --- | --- |
| TPM 1.2 | >= version 1607 | >= version 1607 | YES |
| TPM 2.0 | YES | YES | YES |
Why encrypt your drives with BitLocker?
Disk encryption with the BitLocker function is an important element in an organization to maintain adequate IT security. BitLocker functionality enables you to:
use a proven encryption method through integration with Microsoft's BitLocker API – so the administrator can be sure that his data is properly secured,
increase the level of security of information on USB drives – this allows you to reign in the security of mobile devices that are susceptible to loss or theft,
reducing the risk of data leakage – by securing both external and internal drives, the risk of potential leakage of confidential information is significantly reduced,
blocking of unencrypted external drives – the BitLocker functionality allows blocking the connection of external devices, including those that have not been encrypted,
access to encryption keys from any device – BitLocker disk encryption allows access to encryption keys from tablets, computers and phones,
ability to temporarily disable security – in eAuditor it is possible to temporarily disable the security of an encrypted drive (e.g. for servicing). This eliminates the need to decrypt and encrypt drives each time.